In the late summer of 2013, Daedalus Design and Production was to build the set for The Acting Company's production of William Shakespeare's Hamlet and Tom Stoppard's Rosencrantz and Guildenstern are Dead, currently running through February 1st, 2014 at the Pearl Theater in NYC.
In September of 2013, Daedalus reconstructed Vasilily Kandinsky's murals for the Juryfreie Kunstschau (Jury-Free Art Show) held in Berlin in 1922, a utopian project designed by Kandinsky and executed by his Bauhaus students. "Vasily Kandinsky: From Blaue Reiter to the Bauhaus, 1910-1925″ is currently on exhibit at the Neue Gallery until February 10, 2014.
In the winter of 2012, Daedalus was commissioned to build a number of signs, scenic hangers and lights for the Broadway production of "Motown", currently running at the Lunt-Fontanne Theater.
In the spring of 2013, Daedalus was commissioned to build a set of three 16 foot projection screens and a kabuki drop for the string quartet ETHEL's Documerica, a multimedia performance that combines multiple screen video projections and original music. Documerica was performed in October of 2013 at the Brooklyn Academy of Music's Next Wave...
In April of 2013, Daedalus was hired to fabricate and install a display for Nike's "Superheroes" shoe release, held at Harlem's House of Hoops.
In May of 2013, Daedalus worked with the New York Botanical Garden to build and install an Italian Renaissance garden, inspired by Europe's first botanical garden, created in 1545 at the University of Padua in the Venetian Republic. Presently open to the public, it is part of a show about wild medicinal plants and...
Set Creative commissioned a window display for the release of a new Nike shoe model, comprised of routed backdrops for displaying the shoes and light boxes with text.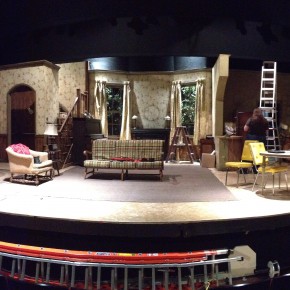 Living room and kitchen set constructed for the Atlantic Theater production of The Lying Lesson, starring Carol Kane and directed by Pam MacKinnon. Currently running at the Linda Gross Theater, 336 W 20th St.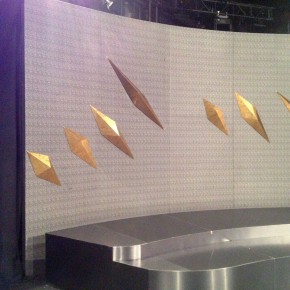 In February of 2013, Daedalus was once again asked to build the stage for Mathieu Mirano's Fall/Winter 2013 Collection fashion show during the NYC Fashion week. Inspiration for the collection and stage was drawn from a rare type of meteorite called a "pallasite". http://mathieumirano.com/collections/fw2013/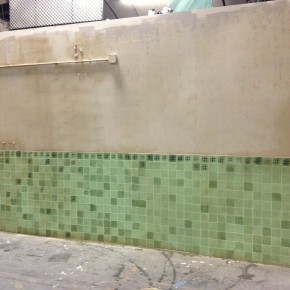 Daedalus was commissioned by the Manhattan Theater Club to construct a weathered wall and wooden floor for the off-Broadway production of The Madrid, starring Edie Falco and directed by Leigh Silverman, running currently.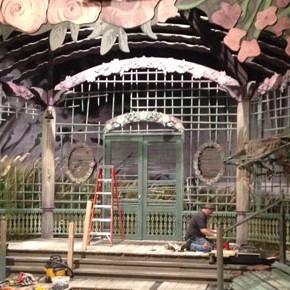 Full set constructed for the Roundabout Theater's production of Talley's Folly, running currently.
2012 holiday season snow cave window display for J. Mendel store, NYC.