Palm Tree Details Back in August of 2013 Daedalus was contacted by the Marlborough Gallery inquiring about building a 25′ tall flat black palm tree for an outdoor art exhibit.  From September 2014 – February 2015 artist Drew Heitzler's "Long Wharf Monument" will be on display as part of the Marlborough Gallery's "Broadway Morey Boogie" exhibit.
In the spring of 2013, Daedalus was commissioned to build a set of three 16 foot projection screens and a kabuki drop for the string quartet ETHEL's Documerica, a multimedia performance that combines multiple screen video projections and original music. Documerica was performed in October of 2013 at the Brooklyn Academy of Music's Next Wave...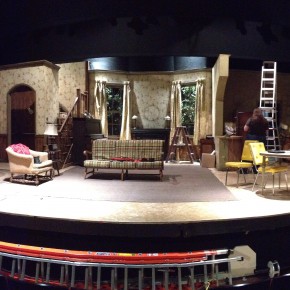 Living room and kitchen set constructed for the Atlantic Theater production of The Lying Lesson, starring Carol Kane and directed by Pam MacKinnon. Currently running at the Linda Gross Theater, 336 W 20th St.
2012 holiday season snow cave window display for J. Mendel store, NYC.
In December of 2012, Daedalus was asked to build a 16 foot tall wheel-of-fortune style functionally rotating wheel for Sufjan Stevens' Christmas tour. Fully modular and purpose built to be assembled and disassembled at every venue. We had a blast constructing it.
Scenic hangers constructed for the Broadway musical, Annie.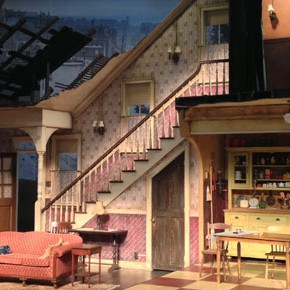 Set constructed for the Signature Theater production of The Piano Lesson.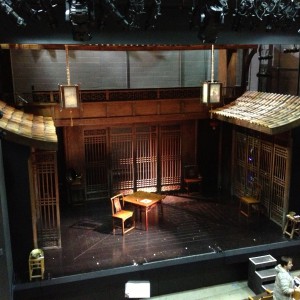 Weathered walls, awnings and sliding doors constructed for the Signature Theater's  production of The Golden Child.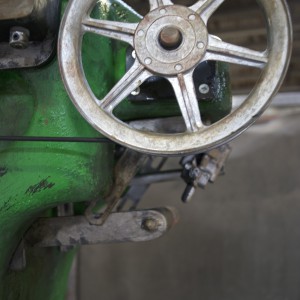 Props commissioned for the Broadway musical production of Kinky Boots.
Daedalus was commissioned to create the character props and a 16 ft. framed LED projection screen for the first live theater production of Super Why!, the popular children's animated television series.